Pre-WOC 2023 Middle and Viestiliiga relay
THE INTERNATIONAL ORIENTEERING WEEKEND 26–27 August 2023
Kuopio orienteering weekend including Pre-WOC Middle distance and Finnish Relay League (Viestiliiga) competitions in North Savo are held in terrain that changes from old-growth forest to commercial forest in the blink of an eye. In the Kuopio area, the variations in elevation and varied sloping terrain challenge athletes' physical skills and abilities. For athletes, the weekend offers an excellent opportunity to start preparing for the upcoming World Championships in Kuopio in 2025 (WOC2025).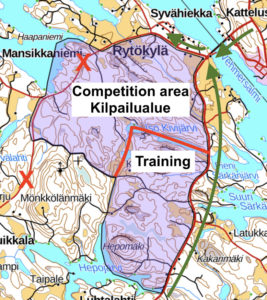 KUOPIO 26-27 August 2023 PROGRAM:

Saturday Pre-WOC Middle distance (WRE) M21 E, W21 E. Other classes will be available as national races at the same time from the same arena.
Sunday Viestiliiga relay H21, D21 (3 legs). Mixed teams are allowed for foreign national teams and club teams to compete, but are excluded from official results.
The Open WOC2025 CAMP will be organized during the competition week (22–25 August 2023). Your team is also welcomed to participate in the Open WOC2025 training camp!
REGISTRATION:
Viestiliiga relay: Irma (SSL)
Open WOC2025 CAMP via Google Forms (coming in May)
ENQUIRIES:
World Ranking competition (WRE):
Mr. Sakari Hyvönen, Secretary General, WOC2025
sakari.hyvonen@woc2025.fi, +358 405246614
Viestiliiga relay:
Mr. Timo Saarinen, Event Manager, The Finnish Orienteering Federation
timo.saarinen@suunnistusliitto.fi, +358 40 519 8699,

CAR RENTAL and ACCOMMODATION

As the official partner Hertz offers a discount on car hire in Finland. Book now!
For accommodation our partner offers can be found from our website www.woc2025.fi. Use code woc2025 while making a reservation.
We welcome you to race and train with us!